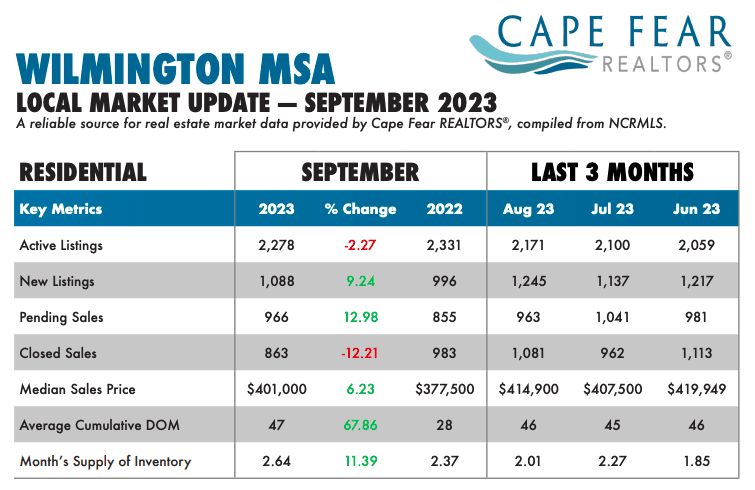 As noted from the Cape Fear REALTORS® press release, September's real estate market for the Wilmington Metropolitan Statistical Area (MSA) highlights resilience and continued growth for the three-county area. Compared to August 2023, the median sales price decreased by 3.4 percent, falling to $401,000. Year-over-year, the median sales price increased by 6.2 percent. This stability in the median sales price is a good sign for sellers, indicating that property values have held up well.
As we look toward the continued growth of the Wilmington MSA, the key factors that demonstrate this growth are new listings, pending sales, and month's supply of inventory. Not only did the number of new listings in September 2023 increase by 9.2 percent when compared to September 2022, but September 2023 rose to the highest number of new listings for a single month in 2023. The year-over-year increase of 13 percent in pending sales indicates strong buyer activity as we turn the corner to autumn.
While the average cumulative days on market increased by 67.9 percent, compared to September 2022, the month-to-month comparison indicates a steady pace on cumulative days on market. The Wilmington MSA has a few key takeaways for buyers and sellers. Overall, the market is indicative of steady and consistent pricing. For buyers, take advantage of the increased average cumulative days on market. This consistent pace creates room for a slightly extended decision window. For sellers, while this report provides a great snapshot for the Wilmington MSA, be careful not to misinterpret the local market dynamics. While these are strong indicators of the market overall, conditions do vary by location.
"September's sales data shows encouraging results in the areas of new listings available for purchase and sales under contract versus the same month in the prior year," states Steve Mitchell, 2023 President of Cape Fear REALTORS®. "As there is still less than three months' supply of inventory, the market is still viewed as a seller's market; however, the average days on market has increased by nineteen days, and the median sales price shows a decline versus the last three months of 2023. This indicates that sellers need to work closely with a Professional REALTOR® to ensure their property is properly priced and they stay informed concerning any possible shift in the Real Estate Market."